"Starlight Night"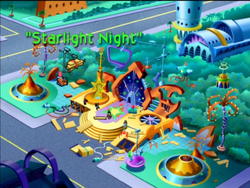 today
Original air date
December 31, 2004
person
Directed by
Larry Jacobs
person
Written by
Barry Harman
George Arthur Bloom
Kristin Laskas Martin
calculate
Topic
Simpler cases
"Starlight Night" is the twelfth and final episode of the third season of Cyberchase. It originally aired on December 31, 2004.
Characters
Main Characters
Places
Plot
It's Starlight Night, the annual holiday when all the stars in Cyberspace are refreshed for the new year. But Hacker concocts a scheme to darken the stars of cyberspace forever.  He sends Buzz and Delete to stop all production of the new star circuits and take inventor Archimedes away to the Northern Frontier.  With the ceremony only hours away, the kids and Digit must find a simple way to make the complex circuits and rescue Archimedes – all before Hacker turns out the lights in cyberspace!
Trivia
Error
Extras
Transcript
Gallery
External Links