"The Case of the Missing Memory"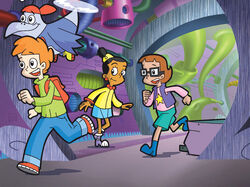 Original air date
October 4, 2005
Directed by
Larry Jacobs
Written by
Louise Gikow
George Arthur Bloom
Kristin Laskas Martin
Topic
Missing information
The Case of the Missing Memory is the seventh episode of the fourth season of Cyberchase. It originally aired on October 4, 2005.
Characters
Places
Plot
Under the guise of a peace mission, Wicked arrives at Control Central with a handful of bad guys. But someone's up to no good and steals Motherboard's precious Memory Integrator. Whodunit? Where is it??  And what does it look like??? Digit and the kids must figure out what they know – what they don't know – and what they need to know. Can they do it all before Motherboard's memory is lost forever?
Trivia
Main article: The Case of the Missing Memory/Trivia
Allusions
Extras
Transcript
Main article:

The Case of the Missing Memory/Transcript
Gallery
External Links
PBS KIDS - Cyberchase Videos - The Case of the Missing Memory