"The Deedle Beast"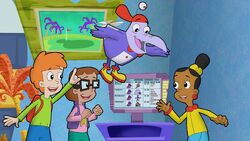 Original air date
October 5, 2009
Directed by
Brandon Lloyd
Written by
Claudia Silver
George Arthur Bloom
"The Deedle Beast" is the sixth episode of the seventh season of Cyberchase. It originally aired on October 5, 2009.
Characters
Main Characters
Locations
Plot
This article or section is incomplete.
Please add information to improve its coverage and accuracy.
On Golftopia, Digit is pet-sitting Dewey, Ms. Fileshare's Deedle Beast. Dewey has started going berserk on his daily walk, so Digit calls in Inez, Jackie, and Matt to help analyze Dewey's behavior and find the problem. The plot thickens when they realize that Hacker has moved in next door.
Trivia
Gallery
External links