"The Eye of Rom"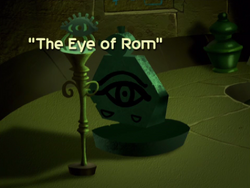 today
Original air date
May 14, 2003
person
Directed by
Larry Jacobs
person
Written by
Dan Elish
George Arthur Bloom
Kristin Laskas Martin
calculate
Topic
Inverse operations
The Eye of Rom is the seventh episode of the second season of Cyberchase. It originally aired on May 14, 2003.
Characters
Main Characters
Places
Plot
Hacker steals the powerful Eye of Rom from Binky the Cat's pyramid, placing the Ancient Egypt cybersite in jeopardy. The CyberSquad sets out to retrieve the Eye from Hacker, but the journey is packed with a maze of exciting, action-filled gambits that force them to first do and undo a series of complicated steps.
Extras
Math Topic: "The Eye of Rom" discusses inverses: to undo a sequence of steps, one can undo each step one by one, starting from the last step and going in reverse order. This is the idea behind formulas like for square matrices in linear algebra or, more generally, groups in abstract algebra.
Transcript
Gallery
External Links