"The Flying Parallinis"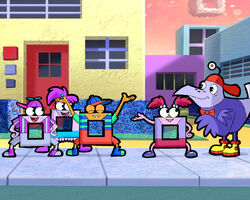 Original air date
April 16, 2007
Directed by
Jason Groh
Written by
Ronnie Krauss
George Arthur Bloom
Topic
Parallelograms
"The Flying Parallinis" is the sixth episode of Season 5 of Cyberchase. It originally aired on April 16, 2007.
Characters
This article or section is incomplete.
Please add information to improve its coverage and accuracy.
Locations
Plot
When Hacker strands Jackie atop Mount Wayupthere, the rest of the CyberSquad has to act fast to save her. In their search for the elusive Diamond Joe - the mysterious figure who holds the secret to Jackie's release - the CyberSquad meets spunky TW, a young Parallini who agrees to help them. Can they discover the power of parallelograms in time to launch a daring rescue mission?
Extras
Transcript
Main article: The Flying Parallinis/transcript
Gallery
Main article: The Flying Parallinis/gallery
Names in other languages
| Language | Name | Meaning |
| --- | --- | --- |
| Spanish | "Los Parallinis Voladores" | "The Flying Parallinis" |
Trivia
It's revealed that T.W. and her family live in Poddleville and that Poddleville houses creatures in the shapes of parallelograms.
For a time, it was believed on the internet that the Danielle Jonas that voiced Mother Parallini was the same Danielle Jonas that married American singer Kevin Jonas despite several factors that prove this false. For starters, Kevin Jonas's wife would not have taken on the Jonas surname until 2009 when she married him, thus had she have done any voice work on CyberChase at the time of this episode's production, she would have been credited as Danielle Deleasa, not Danielle Jonas. The Danielle Jonas who voiced Mother Parallini has a much older sounding voice due to having been at least 76 years old at the time of recording for the episode. Finally, most of the CyberChase voice actors are from or live in the area near Toronto and Ottawa, Ontario, Canada, where CyberChase is primarily produced.
External links