"The Flying Parallinis"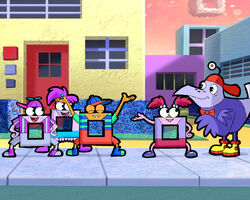 Original air date
April 16, 2007
Directed by
Jason Groh
Written by
Ronnie Krauss
George Arthur Bloom
Topic
Parallelograms
"The Flying Parallinis" is the sixth episode of Season 5 of Cyberchase. It originally aired on April 16, 2007.
Characters
Main characters
Locations
Plot
When Hacker strands Jackie atop Mount Wayupthere, the rest of the CyberSquad has to act fast to save her. In their search for the elusive Diamond Joe - the mysterious figure who holds the secret to Jackie's release - the CyberSquad meets spunky TW, a young Parallini who agrees to help them. Can they discover the power of parallelograms in time to launch a daring rescue mission?
Extras
This is the first appearance of T.W. (Teeny-Wenny Parallini)
It's revealed that T.W. and her family live in Poddleville and that Poddleville houses creatures in the shapes of parallelograms.
Gallery
External links
Community content is available under
CC-BY-SA
unless otherwise noted.