"The Great Outdoors"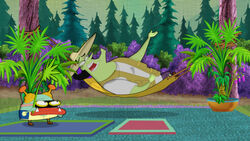 today
Original air date
February 25, 2022
person
Written by
Billy Aronson
calculate
Topic
Appreciating nature
Telling time
Mapping
"The Great Outdoors" is the second episode of Season 13 of Cyberchase. It originally aired on February 25, 2022.
Characters
Locations
Plot
A mysterious creature is trampling all over Crestwood Park, and visitors are too scared to enter. Even Digit is frightened of the unknown. The CyberSquad goes to investigate. Along the way they experience the wonders of nature firsthand and discover why they should leave nature the way they found it. Can the kids find out who or what the creature is? Will Digit overcome his fears?[1]
Educational topic
Being out in nature offers many rewards, but it's important to treat the natural world with respect, in return.[1]
References to popular culture
Hacker exclaims "Now, back to the future!", a reference to the film franchise. Hacker's voice actor, Christopher Lloyd, played Back to the Future character Emmett "Doc" Brown.
Trivia
It's unknown how Gigabyte brought to life.
Errors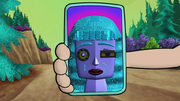 When the CyberSquad contacts Motherboard over Skwak Pad, her image is flipped horizontally.
Gallery
References