"The Icky Factor"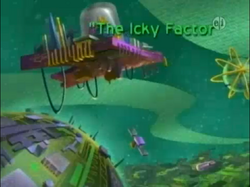 today
Original air date
July 25, 2005
person
Directed by
Larry Jacobs
person
Written by
Adam Rudman
George Arthur Bloom
Kristin Laskas Martin
"The Icky Factor" is the second episode of the fourth season of Cyberchase. It originally aired on July 25, 2005. It is the start of the Hacker's Transformatron mini-series.
Characters
Locations
Plot
Hacker launches his most dastardly and secretive scheme ever! He's building a device so dastardly, victory over Cyberspace is in his sights. His cunning contraption calls for an unusual power source – the Electric Eel of Aquari-Yum. To get the eel, Hacker traps its guardian, cyberslug Icky, far from home and invades its secret hideout. The kids and Digit must use the concept of factoring to save the day. But can they rescue Icky and stop Hacker from stealing the Electric Eel?
Trivia
Extras
Transcript
Gallery
External links