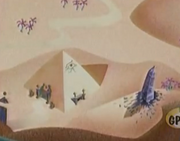 The Tomb of Rom is a tomb located in Pyramidia. Rom is a mummy who spends most of the time in his tomb, leaving his work to Binky. There is also a place called the Grapes of Plath, which belongs to Plath.
Appearances
Inhabitants
Gallery
This article is a stub.
Please help expand it.