"Trading Places"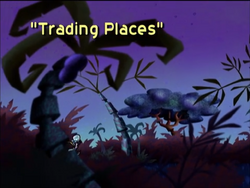 today
Original air date
July 2, 2002
person
Directed by
Larry Jacobs
person
Written by
Adam Rudman
George Arthur Bloom
calculate
Topic
Mediums of exchange
"Trading Places" is the 20th episode of the first season of Cyberchase. It originally aired on July 2, 2002.
Characters
Main Characters
Places
Plot
While attempting to rescue Dr. Marbles, the kids and Digit crash land on cybersite Nowhere, along with Hacker, Buzz and Delete. As a result of the crash, Hacker is shrunk, and Buzz and Delete become smart. In a race to rebuild their cybercraft and save Marbles, Digit and the kids learn to trade and barter and eventually create a monetary system. But who will finish first?!
Cybersites
Extras
Math topic: "Trading Places"
Transcript
Gallery
External Links