"Traffic Trouble"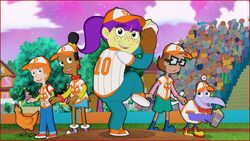 today
Original air date
May 20, 2022
person
Written by
Louie Lazar
calculate
Topic
Forms of transportation
"Traffic Trouble" is the ninth episode of Season 13 of Cyberchase.
Characters
Chicken

(debut)

Junkyard Owner

(debut)

Glenn

Lefty

Mayor Gilliam

(debut)
Locations
Plot
Another Dingerball season is just around the corner for the Dingerville Dragons. But the team is far from ready for Opening Day. The reason--there's so much traffic in town, the players can never reach the field in time to practice. They need an alternate way to avoid the traffic. With a bit of creative thinking the CyberSquad test ideas and design a pedal-powered solution--the Dingermobile![1]
Educational topic
When there are too many cars on the road, you can find other, cleaner ways to move around to ease congestion, lower pollution and maybe even get some exercise.[1]
Gallery
Promotional art
Screenshots
References