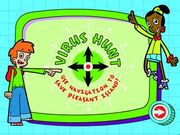 Virus Hunt is a game that was formerly available on Cyberchase Online.
Gameplay
This activity presents a map with obstacles and the player guides a space pod to the location of a hidden object. The player uses arrow keys to set the direction the space pod moves and a tracking device reports the location of the object -- relative to the space pod -- as North, East, South, West, etc.[1]
References
This article is a stub.
Please help expand it.