"Water Woes"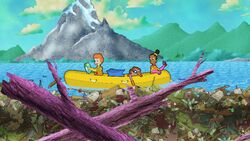 Original air date
April 17, 2020
Directed by
J. Meeka Stuart
Written by
Adam Rudman
Topic
Watersheds
Stormwater pollution
"Water Woes" is the sixth episode of Season 12 of Cyberchase.
Characters
Locations
Mount Bear Fresh Water Spa
Plot
It's not easy being the most notorious villain in all of Cyberspace, and Hacker is really stressed out. Buzz and Delete surprise their mess-of-a-stress boss with a blissful day at Mount Bear Fresh Water Spa, full of relaxing treatments sourced from the beautiful Mount Bear River! But, when the water supply suddenly stops flowing, Hacker and the other patrons are left out to dry. With spa manager, Jules, in over his head, Buzz and Delete go to extreme measures and ask the CyberSquad for help. Using a map and spatial reasoning skills, Digit and the kids turn upstream for clues about why the spa's water has been reduced to a mere trickle. Can the CyberSquad save the day? Or will it all just go down the drain?[1]
Trivia
This is one of the few episodes where Hacker doesn't plan to take over the Cyberspace.
Gallery
References