Widget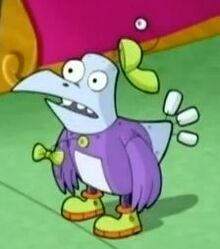 Gender
Male
Widget is a cyboid that resembles a miniature Digit. While Digit's hat and bowtie are red, Widget's are green and aren't screwed on properly, along with his tail blades.
Like Digit, Widget is voiced by Gilbert Gottfried. Widget has a similar voice to Digit, but speaks with a higher pitch.
Widget is described as Digit's pet[1]. Beyond that, his origins and purpose are unknown.
Appearances
Gallery
References
This article is a stub.
Please help expand it.